About Us
Applied Technology Group, Inc. is a full-service wireless communications company providing services for private enterprise, various commercial industries, schools, local, state and federal government agencies. We specialize in all facets of communications including custom engineering for Radio Frequency (RF) and SCADA systems, sales and service of wireless data products, two-way radios, broadband Internet services (T1, DSL, Dial-Up, Wireless Internet), repeater service, paging, computer repair, computer design, computer networking, web design, web hosting, web application development, web data management, custom web software development, cellular phones, solar energy, custom installations, in-house customer support and field service. Feel free to stop by and talk with our qualified parts department and service center representatives. All of our technicians are factory trained and certified. Applied is proud to offer the highest-quality products made by GE MDS, Kenwood, Harris, Relm/BK Bendix King, HYT, Tait, Motorola, DELL, Phoenix Contact, Fortinet, Cisco, Microsoft, Verizon, Unification, Wilson, Bluetooth / BlueANT, Parrot, CradelPoint and more!
Applied Technology Group is one of the fastest-growing mobile communication businesses in the San Joaquin Valley. The Board of Directors of Applied Technology Group, Inc. have over 50 years of experience in the communications industry. Our grandparents, the late Kay Kelso Kidd and Bessie V. Kidd, are our inspirations. Together they founded Kidd's Communications, Inc. in 1948. Together they taught us that hard work, honesty, and dedication are the key ingredients to a successful business. We are proud to state, we still operate on those same basic principles today and we are dedicated to providing the best service to our customers and to ensure their satisfaction with both our products and service.
Thank you for visiting our web site, we hope you find it useful and informative. If for some reason you don't find what you are looking for, please call us at 1-800-481-0007 or 661-322-8650. You may also visit the Contact Us section of our web site and send us a note. We will make every effort to assist you.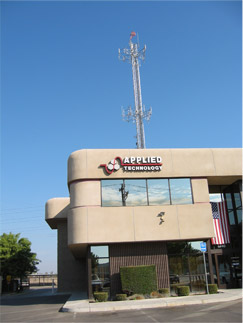 Applied Technology Group, Inc
4440 Easton Drive
Bakersfield, CA 93309
Phone: 661-322-8650