Phoenix Contact Products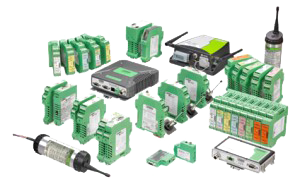 Applied Technology Group, Inc. is the West Coast Phoenix Contact Certified Wireless Distributor!
Phoenix Contact's comprehensive industrial wireless applications consist of four distinct categories. Wireless accessories are also available for these wireless devices.
WirelessHART®


WirelessHART eliminates (or reduces) the need for traditional wiring by wirelessly networking new or existing HART devices. By adding WirelessHART to your sensor network, you'll get more data from your HART devices back to the control room, and you'll reduce cost and installation time.
GSM GPRS Modem


Experience remote data monitoring with GSM GPRS cellular technology over the AT&T wireless network. The GSM GPRS modems are approved by AT&T for use over the cellular network and easily interface with your RS-232 serial connection. Your application can now be monitored from any area with GSM/GPRS cellular reception.
Industrial Wireless Ethernet


If your plant needs a flexible Ethernet-based radio to monitor, control, and program your surveillance, homeland security, plant network, or other applications. Wireless Ethernet radios can act as access points, bridges, repeaters or as a client.
Wireless I/O for Monitoring and Control


Easily expand your ability to monitor and control your pump stations tank levels and sensors-wirelessly. Our wireless I/O solution provides a custom way to increase efficiency in your plant. Use our wireless configuration tool to build yours.
Serial Data Radios


Send your RS232, RS485 and RS422 wirelessly to your PLC or into your plant's existing network. Data radios communicate long and short ranges at 900MHz or 2.4 GHz.
Radio-Ready Enclosure


A total wireless solution that includes a prewired power supply and surge suppression. The NEMA 4X enclosure can be easily integrated into your application, and is resistant to corrosion.
Licensed UHF Radio


Integrate our licensed data radio into your SCADA and telemetry system. The radio can be easily configured to at as a master, slave or repeater radio- no need to purchase additional equipment.
Wireless Antennas

Antenna Selector Guide
Omni Antennas
Yagi Antennas
Pan Antennas
Wireless Accessories

Cables
Connectors
Surge Arrestors